Ready to buy a home? You will want an experienced agent working on your side, guiding you through the home buying process. As experienced Buyer Agents, we know just how complicated and intimidating buying a home can be! Our Buyer Rebate Program provides you with full service representation and includes everything you would expect from experienced professionals. We'll be there every step of the way to ensure your home purchase is smooth and stress free!
When you use Milwaukee Flat Fee Homes as your Buyer's Agent, we will refund you 25% of the commission we earn in the transaction (typically 2.4% of purchase price.) This commission is being paid to us by the seller, through their Listing Broker. Most importantly, this refund is TAX FREE to you.
Your Potential Rebate: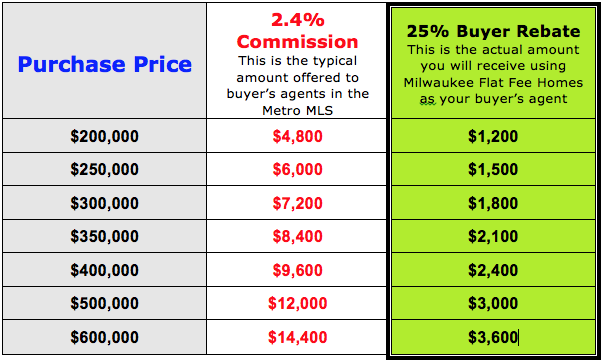 Why Do We Refund 25% of Our Commission to Our Buyer Clients?
It's simple: The Internet has revolutionized the way Buyers search for homes...with over 95% of Home Buyers beginning their search on the Internet before ever contacting a Realtor. Buyers can now find all the information on every available property 24/7. Realtors no longer exclusively control this information. In the past, much of a Realtor's time was spent sifting through all the available properties in an attempt to find the ones that best fit the buyer's needs and desires. With the Internet, buyers can do this for themselves! Since we're splitting the workload, we share our commission with you!
How a Typical Home Sale Works
1. Seller lists their property with a Realtor (this Realtor is known as the Seller's-Agent, or Listing Broker).
2. Usually, a different Realtor (this Realtor is known as the Buyer's-Agent or Selling Broker), brings a buyer-client to purchase the house.
3. For bringing this buyer client to the Seller, the Buyer's-Agent earns 2.4% of the purchase price, which is being paid by the Seller.
4. You, as the Buyer receive NOTHING.

An Example of How Our Buyer Rebate Program Works
A) The Listing Broker offers a 2.4% commission in the MLS to any Buyer's-Agent, who successfully sells the Listing. Using a $300,000 purchase price as an example, the Buyer's-Agent commission is $7,200.
C) Buyer-Agent, Milwaukee Flat Fee Homes earns the offered commission. We then share that $7,200 commission with you, our Buyer-Client.
D) You, our Buyer-Client, will receive $1,800 cash back at the closing table.
It is that simple; when you use Milwaukee Flat Fee Homes as your Buyer-Agent, you will receive cash back at closing!!

Read Enough? [if not, read on] Or, Get Started Now...
STEP 1: Email maddy@wiflatfeehomes.com or call our office to get started (414) 482-5050.
STEP 2: You will need to sign a Buyer Representation Agreement with our Firm, as required by the State of Wisconsin.
STEP 3: Schedule Showings

Wisconsin Realtor® Association Guidelines
In order for our company to receive the Buyer-Agent Commission, the Wisconsin Realtors Association rules state we must be the first "point-of-contact" for each property you are considering (known as "Procuring Cause"). This means that you cannot call the Listing Broker directly to talk with them about the property, then call us later and say that you want to buy the property with us as your Buyer-Agent. If you did call the Listing Broker directly, then that Listing Broker would be entitled to the entire listing commission. You would not receive any commission refund from that Listing Broker.
Milwaukee Flat Fee Homes must have on file a signed Buyer Representation Agreement for each of our Buyer-Clients. This agreement allows us to represent your best interests, receive the Buyer-Agent commission in your transaction, and guarantees your Buyer Rebate...as long as we were the first "point-of-contact".
Our Buyer-Clients must identify themselves as being represented by Milwaukee Flat Fee Homes at any open houses they attend.

Your Responsibilities
You must be ready to close within 90 days of signing our Buyer Representation Agreement
You must be Pre-Approved with a Mortgage Lender or Bank, and provide us with the Pre-Approval Letter.
You will need to search Realtor.com, or WiHomes.com to find properties that meet your needs. Realtor.com is the easiest and most up to date website which contains every property currently listed in the Milwaukee Metro MLS. On Realtor.com you can register and enter all the specific criteria for the type of property you are looking for...and when new properties are listed which meet your criteria, those listings will be automatically emailed to you.
Once you find properties you like, call or email us with the MLS Numbers, and we will schedule the showings.

Our Responsibilities
We will schedule all appointments to view your selected properties.
We will advise you as to current market selling prices.
We will complete your Offer To Purchase documentation.
We will strategize with you, and negotiate your offer with the Listing Broker.
We will obtain all necessary signatures upon Offer Acceptance.
We will guide you every step of the way, from contract contingencies, to title work, to closing.

How Do I Receive my Buyer Rebate?
You will be issued a check for the total refund at closing. Keep in mind: Your rebate is Tax-Free!! And, you can use your refund as part of your down payment, if you choose.
Additional Details:
To qualify for a 25% rebate of our commission, your purchase price must be greater than $100,000.
You are free to attend Open Houses, but don't forget to tell agents that you are represented by Milwaukee Flat Fee Homes. Give them our business card and don't sign-in or provide any information to the Realtor working at the open house.
How To Begin? Simple...
Email maddy@wiflatfeehomes.com or call our office to get started (414) 482-5050.